Hi! If this is your first time on CubeSkills, or if you're in need of some help with navigation around the site, you've come to the right place.
For information about speedcubing and an overview of CubeSkills, check out the introduction module on the tutorials page, as well as the 'About' tab on the website. The FAQ section may also come in handy if you have any queries.
On the tutorials page, the 3x3 video modules are segmented into beginner, intermediate, and advanced tutorials, and these are shown at the top of the tutorials page. Those solving the cube with a beginner's or layer by layer method should start with beginner tutorials. If you're currently learning the CFOP method, then check out the intermediate sections. Lastly, if you're looking to further improve your solves beyond basic CFOP, check out the advanced modules. To view all tutorial modules on the site, click the tutorials tab in the header, and then click 'All'. As you complete each tutorial video, it will be automatically marked as complete - but you have the ability to manually adjust the complete/incomplete tick for each video as you please! Videos marked with a lock symbol are only viewable to premium members. Premium members also have the ability to comment on videos to ask questions and engage in discussion around the content.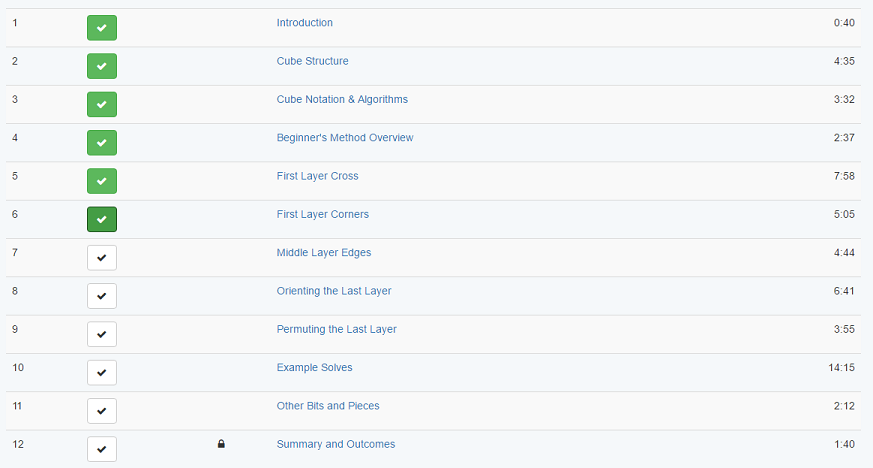 In addition to the 3x3 videos, we also have tutorials and resources for other speedcubing events, also accessible via the 'Tutorials' tab in the navigation bar.
For more assistance and an overview of how to get faster, take a look at the blog with the same name. The blog tab features articles I write every few weeks relating to speedcubing in some shape or form. Content may vary from speedcubing advice or thoughts, to competitions and travel, to CubeSkills news.
Our premium membership tab outlines the benefits and pricing of a premium membership. A premium membership is a cool way to support the growth and development of CubeSkills, and provides access to every single one of our tutorials, past, present and future. There are also some other cool benefits for cubers looking to improve their ability, so check it out!
If you click on your name in the top right corner, you'll find access to your profile page, in which you can change some of your account settings and details. Any videos that you add as favourites will also be stored in this section of the site.
In the footer of the website, you'll find links to the CubeSkills social media accounts. Like us on Facebook, and follow us on Instagram for some behind-the-scenes pictures, announcements, teasers, and plenty more! There is also a contact page for any questions you have about the website.
Cheers, and I really hope you enjoy browsing CubeSkills!
Feliks